I bought an Asus Ep121 about six months ago and have put it through some serious paces so I finally feel I can review it well from an animator's perspective. Sorry if it's a bit random since I'm just writing as I think of things to say.
I work as a director in the L.A. animation industry making cartoons and put this thing through some serious paces daily in order to do my work. The tablet itself it is a great device which is perfect for an artist trying to draw digitally. Priced at about half the cost of a Wacom Cintiq it's a good replacement and is portable to boot. You of course also get an entire computer too in Windows 7 which has it's pluses and minuses as I'll go through later. If you're thinking of looking for a tablet but can't afford a Cintiq, this is the tablet you want.
I have seen many people over the years asking online what's the best tablet for an artist, and it was the Motion Computing LE1600 until this tablet came out. Now my money is on this baby. The tablet comes with almost no bundled software and as an artist the only one you'll use will be Artrage which is a great tool for painting. Better than Painter and better than Photoshop because by default you can paint one color and the select another color and when you drag the second color through the first color they will mix with each other. Yes MIX! You can buy Artrage here. Another great drawing program, Autodesk Sketchbook Pro works fantastically on this tablet and it really should be bundled with it but Asus doesn't seem to care much about giving you any software as the built-in webcam does not even have software to use it. You can however get yourself a free gmail account and use their built in webcam software which works wonderfully.
If you buy the 2gb version you'll need to upgrade the tablet to see it's full potential. If you don't you'll have out of memory errors and the graphics card will flicker and cause refresh errors. Adding the memory is a snap with a screwdriver and a credit card to crack open the case. Below is a tutorial of how to upgrade the hard drive and the memory.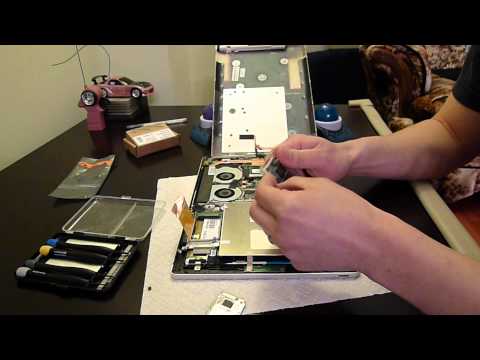 Armed with the full amount of memory the tablet will run Storyboard Pro, Photoshop, Flash, Illustrator, Maya, ZBrush, Sketchbook Pro and pretty much anything you throw at it.
Also if you're buying the 2gb version you'll only get a 32gb hard drive which barely has any space left once you install something like Adobe's Creative Suite so there's that to think about as well. Luckily the tablet has an SD card slot and if you buy a fast 64gb SD card you can install the Creative Suite on that and your problems are solved. In my opinion it's cheaper to buy the lesser version and upgrade yourself as it's cheaper than buying the 64gb version unless of course you don't feel you can do this yourself and then you really should buy the more expensive model.
The tablet is also touch sensitive which might make you think it's like the iPad. Don't think that. It's not even close. The primary reason is Windows 7 sucks for touch screens and by default the touch screen functions are seriously lacking. It has touch screen by default turned on and unless you do a little hacking you have to continuously go to the Control panel to turn it off and on. You can NOT draw effectively with the touchscreen turned on which is something I have not seen any one else say in their reviews. It NEEDS to be turned off in order to draw at all because it does not have what is known as 'palm rejection' so that when you place your hand on the screen, it registers your palm as well as the stylus and they fight for which one gets the input.
The stylus is small, cheap and does not have a right click button on it and in some programs the press and hold feature of Windows which is supposed to mimic right clicking does not work. One offender is Toonboom's Storyboard Pro which never registers anything but a real right-click with a mouse or button equipped pen. Another is Adobe Photoshop.
The Wacom Penabled Stylus will also work with this device however and is almost exactly the same side except it has a button on the sider of the pen. It also does not register the right click in Storyboard Pro or Adobe which makes me suspect the Ep 121 and not the software. It does however work with Sketchbook pro so I don't know, it might just as well be the software after all.
There is a hack out there to make the one button on the Asus Ep121 remap to turn on and off touch screen function and once you've done this you have to wonder why Asus didn't do this themselves as the button by default is set to go page though the Aero 3d screens which shows all your screens like a deck of cards and each time you press the button it flips to the next screen. Basically it's Alt-Tab if you know the reference. If you do not know what I'm referring to try it on your computer and you'll see what I mean. About the only thing the touchscreen is useful for in my opinion is to read books or magazines with because you can flip through the pages by simply touching the screen. The device also auto rotates so you can read a comic or a magazine easily in portrait mode with this tablet. It also has a rotate lock switch on the top of the device which I use due to the sensitivity of the rotation software. It is a bit heavier than an iPad too so there's that to think about as you wont be holding it for long periods of time without taxing your muscles.
There is a pretty nifty hack out there that lets you add a touch screen slider widget to your screen which you can check out here.
The EP121 also comes with some accessories like a leather folio which you can slip the tablet into and use the flap to cover the screen. I never take mine out of the folio one because it's kinda slippery without the leather to give it a little grab but also because it has two nice flaps on the back which allow you to prop it up for drawing, one portrait and one landscape. The flap itself flips over as well letting you use it to prop the device up so you can type with the included keyboard. The keyboard is something I'll mention later but suffice it to say it's solidly built if you can get it to stay paired with the tablet. I could not.
If you are not computer inclined you might want to steer clear of this device as well as it needs tweaking to get right. By default it does not have pressure sensitivity and you need to install Wacom drivers to get that functionality. you also need to have the right driver to make that work well or your tablet will crash. I have seen a fair amount of refresh errors as well so there's still something buggy about the graphics driver.
The Bluetooth keyboard has issues too in that you have to repair it every time you turn the keyboard off as it does not remember the pairing. At least mine didn't so perhaps it's just me. It uses two AAA batteries so when they die you need to put new ones in and re-pair it with the tablet. Kind of annoying. In my case I kept it in my backpack which caused it to constantly be pressed and wearing down the battery. Each time I pulled it out to use it, the keyboard was dead. In order to pair it you use the stylus to push a pair button on the back of the keyboard and it's supposed to flash red then green to let you know it's in 'pairing mode'. Some people have reported it takes up to 30 seconds to get it into that mode. Eventually mine never flashed at all making it of little more use than a Frisbee.
From the beginning my keyboard did not connect very well and over the next few weeks eventually stopped connecting at all. I contacted Asus and was told that the keyboard itself was considered an accessory which is not covered by the warranty which is odd to me considering it came IN the box WITH the tablet and has the ASUS name right on it!
Anyway, I wanted to let you all know buyer beware that if your keyboard breaks they will not fix it.
Do I still like my Asus tablet? Yes of course, it is a solidly made device and helps me in my daily work exponentially. Would I buy another Asus product? Yes I think so, if only because it suits my purposes well and there is nothing out there similar but I would not recommend them as a company to trust or count on.