Anyone that knows me will tell you I am a tech junkie. I have always had the latest gadgets and toys. It's just 'how I roll' so to speak. My biggest indulgence has always been the PDA. It is an invaluable tool for developing cartoons and ideas. I primarily use them to write with and jot down ideas for development etc. I am almost never without mine be3cause you never know when someone is going to say something funny I can use in a cartoon or a pitch to a studio. Most of my ideas come from life and I am too forgetful to remember it so I write it down. Now of course I could just carry around a pad of paper and in fact I know a few friends who do that but what if I lost it? Tons of great ideas down the toilet. Lose my PDA? I suppose that's possible too and once someone stole my Psion 5 from the McDonalds outside of Warner Bros. Luckily you are supposed to sychronize them and like a good lil' boy I did just that and all my files were safely on my computer.
I have had every Palm Pilot since the Palm IIIx which I sold for an upgrade to the awesome Palm V which was then replaced by the Palm IIIc which I really loved. the trouble with it was that you had to write in Palm's Grafitti text, which while asy to master was difficult in getting anything of substance down on paper because you had to write each word out. Much slower than typing. Anyway when Windows CE devices came out with their little keyboards man I was in heaven. One problem. When you let the battery run down? All your data disappeared! AH well luckily I backed up eh?
Once cellphones started coming out of course I had to have one of those and was one of the first to get one. Lately they have begun to merge and so I tiptoed out on to the bleeding edge and got myself a Palm Treo 650 which has served me faithfully for the last 4 years or so. I loved it and have even tapped out whole chapters of a book I'll never finish on it while waiting on line for things like tires and doctors. Yeah I loved my Treo but lately it has begun to wear out. It stopped sychronizing last week and as I've outlined before I am in serious need of that function so I decided it was time to get a new phone.
Enter the XV6800!
(Took me a long time to get to this spot huh?)
Anyway…
I just switched to Verizon from ATT because I was tired of the service. No, I don't expect better service from Verizon I just figure it will be different and I won't have the same old problems but instead will inherit new problems which will at least be different. The XV is pretty cool it has WiFi built in which is ncie because then when I'm home I don't need to use Verizon's data plan. I can surf the web free which is awesome. It even lets me log in to Gmail. Google converts all the web content (when it can) to a mobile format which is great too. The VX has Mobile Word and Excel built in as well which is nice so I can write in Word's native .doc format. I have to say it's a bit overly complicated though. There are like 9 buttons on the sides of the device. It also seems to be have been developed for a left handed person because everything is on the opposite side of where I'd want it. The stylus, scroll wheel and power button are all on the opposite side of what I am used to. The one thing that bugs me so far is that you have to turn the phone on each time. On my old Treo you hit a button; any button and the phone turned on and asked if you wanted to unlock the screen so you can use it. IF you did want to turn it on, you pressed one button and you were in. With the VX I have to push the side of the device top turn it on. There is no Locking the phone that I can see so far which is odd. I think I would have liked it better if the device was powered by the Phone button like every other device I've seen. I guess I'll get used to it.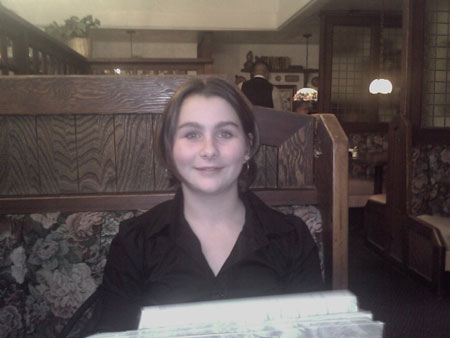 A recent pic taken of my daughter Melissa on the XV6800
The camera on it is nice too, it's a 2 megapixel one and it even has a Flash although you're still not going to want to take Wedding videos or that video of that sasquatch you saw as it's not the best but it's cool to be able to have a camera with you at all times. I even use the camera to record where I parked so I can find the spot later on. I also have used it to snap pics of the sink so I could get the right kind of parts I needed when I had to fix it. Pretty nifty.
All in all the VX6800 is a cool phone but unless your a techie geek like me, it's probably overkill