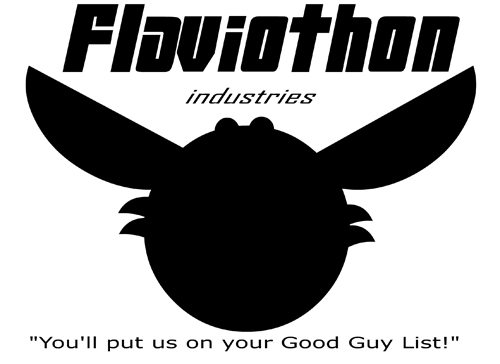 Flavio has his own company called Flaviothon Industries where he tries to sell his oddball inventions.
This is his official logo…
While I'm on the subject of Flavio for those of you that might even remotely care (which consists of mostly me) I have set up a small Flaviothon Industries Store because my brother has been bugging me forever to make him a Flavio clock.
Well, in my own typical fashion I got a bit carried away and added more than just that. If you'd like to buy any of the stuff there feel free. I make no money on it. It's all at-cost, but ya never know what you can and can't live without! I personally like the Flavio calendar because it's got a lot of his inventions on it, but that's just me. If by chance you do choose to buy something let me know, or if you'd like to see something there that ain't there let me know too. ( all two of you!) ;-)
Lastly, Flavio comes back from Taiwan on November 13th so be watching here for clips and other cool stuff!